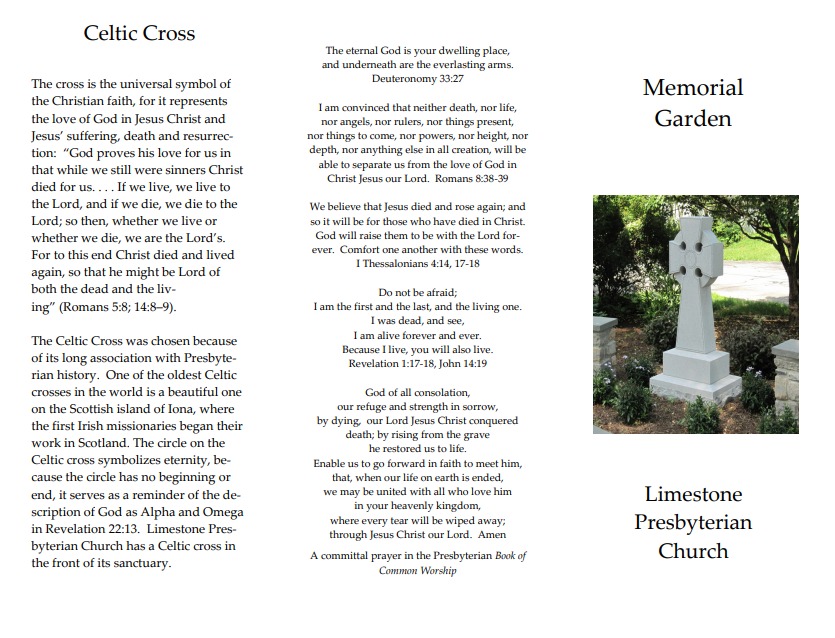 History
Rain Garden at Limestone
Plants for Rain Garden
History
Rain Garden History- What is planted there – Care of the Rain Garden 
"The earth is the Lord's, and everything in it." (1 Corinthians 10:26).  We have two areas which create Limestone's rain garden.  Each area is approximately 40 feet by 20 feet making them each 800 square feet.  The one area is shady since it is underneath our large trees.  There five different shade loving native plants thrive in moist or wet soil with some sun.  The other area, being dry and sunny has over twenty different native plants which prefer the sun with dry or average moist soil.  For this article will focus on the history of the rain garden. Later articles will describe various plants and specific wildlife prefers them, a third part will be about the ongoing care and management of the area.  
History 
Our Deacons, in 2013, wanted to have create a rain garden here.  They recognized the value of helping reduce the water and melting snow which runs into the gully between the two parking lot areas.  This gully area was collecting weeds and fallen branches with small pools of standing water.  Beyond the plants around the church building, there were no flowering plants.  One of the Deacons contacted the Delaware Department of Natural Resources and Environmental Control (DENREC) for assistance.  They provided the initial native plants and professional guidance in the layout of both, the sunny and the shade areas.  Limestone members provided the labor to level the center area and lay stone to help with the drainage of the water.   
Already we have the benefits from these two areas.  The native plants' roots absorb the excess water from the surrounding land and walkway.  Having these native plants in the garden creates other benefits for our environment and our enjoyment.  Gazing at the area of God's nature with its varied colors and shapes of leaves is said to help people slow down pause and remember more of God's wonderful creation.  The native plants provide the proper and better nourishment for the native animals. The area provides habitat for birds to nest. Butterflies can gather their food while honey bees can gather nectar and pollinate these plants for beneficial insects.  Also, the area provides a more attractive landscape for all coming to Limestone.  So much nicer to have a pleasant view while walking towards the church than crossing over a gully full of weeds or standing water.   
Rain Garden at Limestone
Plants for Rain Garden